Domestic and Offshore Short-term Investment Solutions1,2,3

Maintain your portfolios' daily liquidity requirements, earn competitive yields, manage portfolio diversification, and save administrative time.
We provide comprehensive custody solutions to organizations for assisting with liquidity needs. Our streamlined interface is designed with institutional investors in mind, and features:
 
A simplified way to transport your money market mutual funds,1,2 ultra short bond funds,1 and deposit accounts.2,3
A comprehensive library of fund information
Downloadable asset and transaction reports
Efficient liquidity management for all your accounts through a single user ID
A flexible investment compliance module
Risk mitigation through dual-authorization trading
The ability to:

Analyze underlying holdings of money market mutual funds and ultra short bond funds showing exposure by category
Conveniently view account statements through Online Trust & Custody
Compare holding attributes of hypothetical portfolios to current portfolio holdings
Easily process future-dated trades
Select data points and desired thresholds to receive a summary of alerts by email
Track daily fund performance
Learn more
For more information, please contact your relationship manager.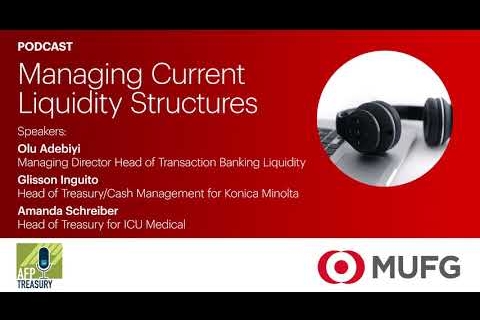 Managing Current Liquidity Structures Podcast
AFP Conversations looks at liquidity management and where it needs to go. What are some of the key considerations for managing current liquidity structures? MUFG's Olu Adebiyi, Konica Minolta's Glisson Inguito, and ICU Medical's Amanda Schreiber answer that question and more.
1) For Government Money Market Mutual Funds (MMMF), you could lose money by investing in the Fund, and although the Fund seeks to preserve the value of your investment at $1.00 per share, it cannot guarantee it will do so. For Institutional Prime Money Market Mutual Funds (MMMF), Institutional Tax-Exempt Money Market Mutual Funds (MMMF) and Ultra-Short Bond Funds (USBF), you could lose money by investing in the Fund, and because the share price of the Fund will fluctuate, when you sell your shares they may be worth more or less than what you originally paid for them and there may be tax consequences, including capital gains or losses. Before investing carefully consider the investment objective, risks, charges, and expenses contained in the prospectus, which is available for free from the Fund's sponsor. Read the prospectus carefully before investing. An investment in the Fund is NOT insured by the FDIC or by any other federal government agency, is NOT a deposit or other obligation of, or guaranteed by, MUFG Union Bank, N.A. (Bank) or any Bank affiliate, and MAY lose value, including possible loss of principal. A MMMF may impose a fee upon sale of your shares or may temporarily suspend your ability to sell shares if the Fund's liquidity falls below required minimums because of market conditions or other factors. The Fund's sponsor has no legal obligation to provide financial support to the Fund, and you should not expect that the sponsor will provide financial support to the Fund at any time. An USBF is not a "money market" mutual fund, and is not governed by, nor does it comply with, relevant Securities and Exchange Commission rules for such funds. Additionally, the Fund Company may apply frequent trading limitations to transactions in the Fund. For further information, refer to the Fund prospectus.

(2) Offshore funds available only to certain qualified investors.

(3) Reference is to certain omnibus interest bearing deposit accounts maintained at MUFG Union Bank, N.A. and certain branches and offices of MUFG Bank, Ltd. (formerly known as The Bank of Tokyo-Mitsubishi UFJ, Ltd. (BTMU)) including MUFG Bank, Ltd., Canada Branch. MUFG Union Bank, N.A. is a member FDIC and its banking products are insured up to applicable FDIC insurance limits. MUFG Bank, Ltd. is not a member FDIC and its products ARE NOT insured by the FDIC or other government agency. MUFG Bank, Ltd., Canada Branch is NOT a member Canada Deposit Insurance Corporation (CDIC) and its deposit products are NOT insured by the CDIC or by any other government agency.
---