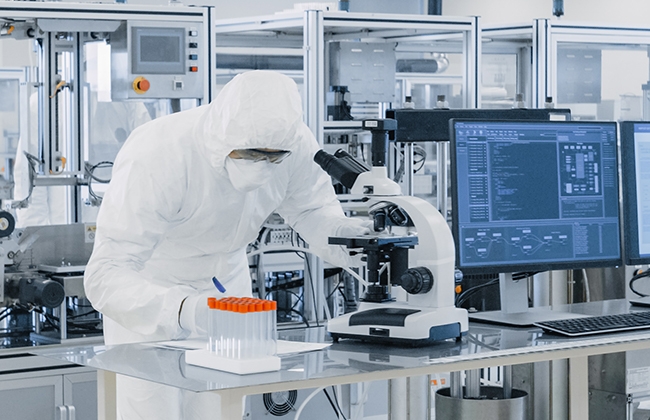 Andreas Dirnagl
Global Head of MUFG Healthcare Research — Strategic Research
Mr. Dirnagl heads MUFG's Strategic Research Division in New York, which provides coverage bankers, product groups and credit staff with in-depth industry and company information and analysis. In particular, he leads the global healthcare research practice—his individual specialty—within that division.
MUFG Healthcare Outlook 2021
Resiliency, political climate, and return of Mergers & Acquisitions (M&A)
MUFG was excited to once again work with our partners at the Fitch Group to host the 2021 Annual Healthcare Symposium. Every year in January, MUFG and Fitch join forces to provide clients with our outlook for the Healthcare Sector for the coming year.
This year's virtual panel discussion was co-hosted by Andreas Dirnagl, Global Head of Healthcare Research for MUFG, and Megan Neuburger, Deputy Regional Group Head for U.S. and Canada Corporates, Fitch Ratings, and also included Sung Hee Choe, Director, FasterCures, Milken Institute, and Robert Landry, CFO, Regeneron Pharmaceuticals, Inc.
Focused on the outlook for the Healthcare Industry in 2021, this year's topics also included:
COVID-19 Sector and Rating Impact
M&A Capital Markets
Opportunities and Innovation Given the New Normal
We viewed three major takeaways that were the consensus of the panel of experts.
Performance: Healthcare is a highly resilient sector—even in light of the global COVID‑19 pandemic.
Politics: While there are many changes afoot with the political shift towards the Democrats in D.C., we don't expect significant changes to U.S. Healthcare Public Policy.
BidenCare = Obamacare 2.0
M&A: 2021 is likely to be a year of relatively healthy M&A activity in Healthcare—with a large number of transactions but we're unlikely to see mega-deals.
Healthcare is in a favorable [credit ratings] position…in large part a reflection that the sector was resilient during the pandemic
Megan Neuburger, Fitch Ratings
Performance
Given the traditional drivers of strong global demographics, the prevalence of chronic diseases and relatively inelastic demand, healthcare is traditionally seen as a relatively stable and predictable industry. Going forward, our conviction in this thesis is only strengthened by the performance of the sector in face of a global pandemic. Certainly there was some variability in terms of the impact of COVID-19 on the sector, but in aggregate (and certainly relatively to many, if not most, other industries). Healthcare can be expected to show continuing solid financial performance.
Looking at the typical subsectors of Healthcare:
Pharma/Biotech: Overall the best performing and least negatively impacted Healthcare sector. During the COVID pandemic we saw the negative impact on Pharma typically restricted to (i) short-term disruptions to the global supply chain (mainly related to early closures in China impacting sourcing) and (ii) "timing differentials" associated with patients accelerating filling prescriptions going into local/regional lockdowns and the working down of those stocks over time.

Pharma Sectors facing Headwinds:

Hospital or physician office-based products (that require patients to travel for in-person administration of a drug)
Companies having a relatively higher percentage of sales coming from newly introduced products (especially those requiring a new diagnosis from a physician)

Pharma Sectors facing Tailwinds:

Treatments for respiratory illnesses and symptoms
Treatments for COVID-19
COVID-19 vaccines
At Regeneron, we re-invest in ourselves from a capital deployment perspective. We think we have great technology and go to the outside for modalities we don't have. COVID won't change…our approach.
Robert Landry, Regeneron Pharmaceuticals, Inc.
MedTech: Much more variable impact from the pandemic dependent on a company's percentage of revenue coming from elective procedures. An elective procedure is a healthcare procedure a patient has to have, but has some flexibility in terms of timing. We have seen these procedures delayed as local/regional lockdowns restrict movement and as healthcare resources are increasingly focused on COVID patients. However, given the required nature of the underlying procedures, quick and strong recovery following easing of infection rates and lockdowns are expected (and were seen clearly during the Summer of 2020).

MedTech Sectors facing Headwinds:

Supplies and equipment associated with elective surgical procedures
Implantable and orthopedic devices / joints

MedTech Sectors facing Tailwinds:

PPE manufacturers
Respiratory devices and supplies manufacturers

Services: Clearly the most directly impacted by the pandemic as most healthcare services require physical interaction between provider and patients. From a financial perspective, acute-care hospitals are likely the most negatively impacted given (i) delays in much of their (typically higher margin) elective procedures, (ii) increased costs associated with the treatment of large COVID-19 patient populations

Services Sectors facing Headwinds:

Acute-care Hospitals
Physician services

Services Sectors facing Tailwinds:

Diagnostic services (imaging, laboratories, etc.)
Hospital staffing companies
Politics
While the shift in political control in DC to the Democrats will likely have numerous and significant impacts – we view significant changes to overall US Healthcare Public Policy as unlikely. Essentially, the Biden Administration and most centrist Democrats are likely to view Obamacare as a framework to continue to use for Healthcare public policy. We view changes as evolutionary rather than revolutionary. BidenCare = Obamacare 2.0. The razor-thin margin in the Senate is also a circuit breaker to significant Healthcare public policy changes.
In terms of likely changes we see continued expansion of Medicaid eligibility finally breaking through to the remaining "non-expansion" states. We consider the addition of a "Public Option" (for example lowering the Medicare eligibility age or making Medicare an option for all) as the most possible of the potential significant changes, but still unlikely. As with the establishment of Obamacare we view expansion of healthcare coverage (as would be associated with a public option) as a net positive for Healthcare utilization. We continue to view a Single Payor System as essentially impossible given the current political power bases in the US.
Actions under the Biden administration are likely to be incremental, for example focus on coverage expansion and CMMI payment models. We also anticipate increased regulatory flexibility in R&D.
Sung Hee Choe, FasterCures
There are two themes we have seen over the past few years that we consider to be places where focus will remain under a Biden Administration – namely, pressure on pharma pricing and an overall push for healthcare pricing transparency. Pharma pricing pressure is here to stay, although we view it being driven more by "moral suasion" rather than direct government price controls. The President and Congress are likely to keep up public pressure (expect more pharma CEOs testifying before Congressional Committees) in order to influence pharma pricing – which has been the main mechanism used over the past decade. In addition, we see continued bipartisan support for transparency measures like the Surprise Billing restrictions in the latest COVID relief package. Overall for both of these measures, we see government trying to get the sectors of the Healthcare industry to come up with solutions rather than impose controls at the Federal level.
M&A
The first few weeks of 2021 have already seen a healthy level of Healthcare M&A activity with transactions ranging from Medicaid Managed Care Providers to MedTech and Pharma companies acquiring products and platforms to private equity sponsors making additions to existing companies and acquiring new platforms for growth.
Our panel's consensus was that 2021 would likely be a year of relatively good/strong M&A activity in the Healthcare sector. A combination of relatively strong operating and financial performance despite the pandemic, a low interest rate environment, and highly liquid capital markets would likely be enough to drive a high level of activity. In addition, we feel that the pandemic itself is serving as a driver as companies undertake full and detailed reviews of the product portfolios and service offerings to determine what is core and non-core in the current environment. We especially find that companies seem to be using these reviews as the impetus to finally deal with various "orphan" and "stub" businesses that typically were acquired as part of a strategic acquisition.
Capital issuance was extraordinary during the pandemic and as we see interest rates remain low, points to a positive viewpoint for financing events in 2021.
Andreas Dirnagl, MUFG
Many of the transactions we've already seen this year are characterized by this sort of driver. Thus, we see the outlook for 2021 Healthcare M&A for a high level of activity in terms of a large number of relatively smaller transactions. This is another way of saying that we are unlikely to see large transformative "mega" (let's say >$50B) transactions in Healthcare in 2021. Depending on the size of the company any of the likely smaller (let's say <$10B) may be individually financeable – but clearly the aggregate value of an active M&A environment will drive Healthcare capital markets activity in 2021.