Looking Ahead at What We Can Expect
The MUFG U.S. Macro Strategy team is dedicated to formulating U.S. Fixed Income views, market strategy thought leadership, and actionable trade ideas for our institutional clients. Headed by George Goncalves, an industry veteran with more than 20 years of sell-side and buy-side experience, the team focuses on rates, MBS, credit, the Fed/global central bank policy, U.S. dollar funding dynamics and all things macro-related.
Learn more
For more information, please contact us:
George Goncalves
Head of U.S. Macro Strategy
New York, NY
1-212-405-6687


usmacrostrategy@mufgsecurities.com
2023 U.S. Macro Strategy Outlook
Read our forward-looking views on the 2023 market outlook in "Passing the Baton: A shift from inflation to growth concerns"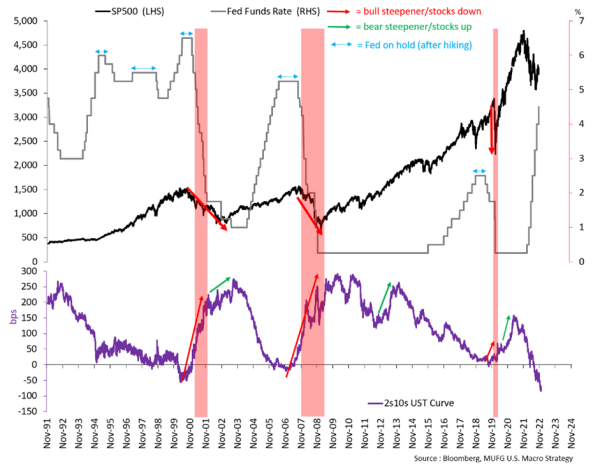 Mind the gap (lower) when the curve (bull) steepens
The best thing to happen, some folks say, is the Federal Reserve stops hiking and then turns around and eases. We attribute that to the pattern of the last decade. Otherwise history would argue otherwise. 
Contrary to popular opinion, stocks have tended to perform better when the curve has been flattening versus when it's steepening. That said when bear steepeners occur, mid-cycle, where earnings prospects are improving (and it is linked to a strengthening economy) that is really the only time where higher long-term rates can co-exist with stocks performing. Meanwhile if curves bull steepens (i.e. short-term rates fall faster than long-term rates) that has historically coincided with some of the worst equity market performance. Beware of the Fed pivot.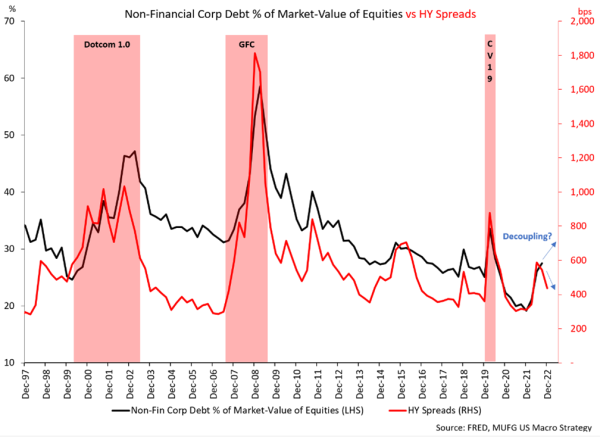 Are credit spreads a function of enterprise value?
The best may be behind us for Corporate America – for now. A world of low rates and tight spreads that existed, especially during the period right after the CV19 shock, allowed for corporates to term out debt at very attractive levels. Meanwhile profits and general earnings power saw a major bump during the reopening of the U.S. economy and the initial wave higher in inflation.
Enterprise value is a long-term anchor for credit spread. As seen in this chart of the percentage of nonfinancial debt to the nominal market-value of equities, that ratio is closely tied to the movements of high yield credit spreads.
Due to the rate shock, issuance was lower in 2022. However if credit issuance picks up, while stocks remain depressed and the economy weakens, spreads should widen.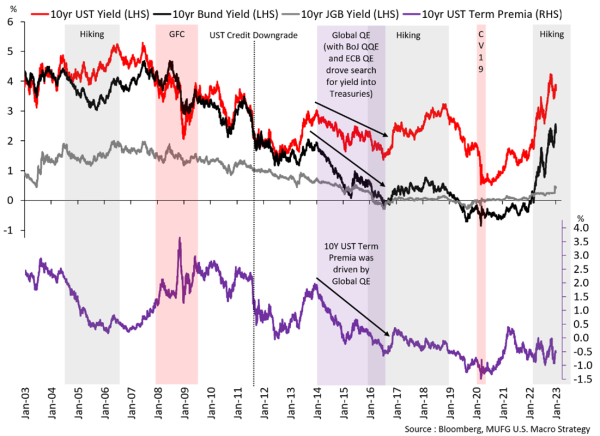 G3 rates rise
If global rates push up U.S. Treasury yields higher, it could lead to a buying opportunity. In our view U.S. rates will have at least one more sell-off before a proper move toward lower rates can begin.
As seen in the chart, from 2013 through 2016, once the Bank of Japan enhanced its QE program (and then went to Yield Curve Control) and the ECB embarked on QE, U.S. rates also declined as term premia in the 10-year sector was driven lower by the reach for yield post the onset of global QE. Not even the last hiking cycle of 2015-2018 was about to reverse the steady decline in term premia on the US curve.
One can barely make out the spike higher in Japanese Government Bond rates but its happening as policies change and all global rates push up against each other up. EUR rates have been under pressure all year. As overseas rates climb, on balance that suggests that investors in other jurisdictions will keep capital at home, versus seeking higher yield in USTs. This should reintroduce term premia into U.S. 10s.    
Our approach to analysis
Our U.S. macro strategy team's four-pillar approach uses analytic tools and various databases to pinpoint what will motivate investors to reallocate assets, or to deploy new or different trading strategies. These techniques, along with historical market perspective, give a complete macroeconomic picture for our coverage teams and SMEs, and for our clients.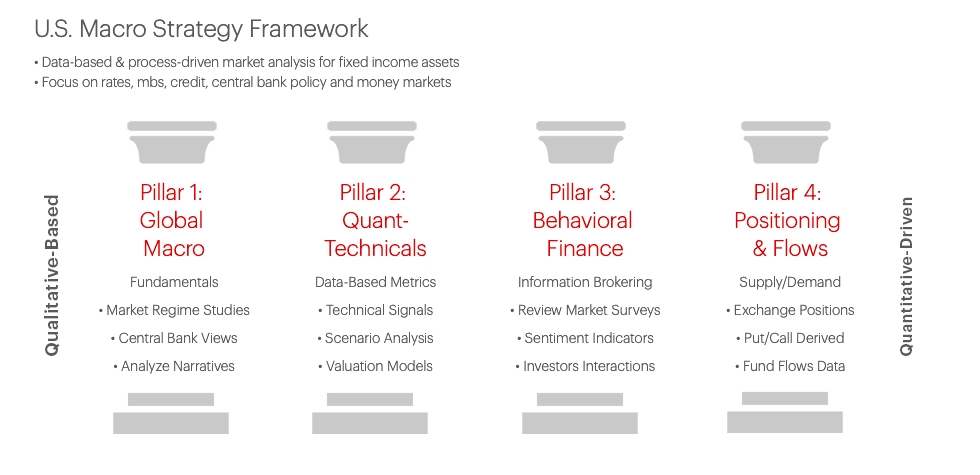 George Goncalves
Head of U.S. Macro Strategy
New York, NY
1-212-405-6687
The head of our U.S. Macro Strategy team – George Goncalves – is an industry veteran with more than 20 years on the sell-side and buy-side. George joined MUFG in April 2021 as head of U.S. Macro Strategy with a mandate to formulate U.S. Fixed Income views, drive market strategy thought leadership, and actionable trade ideas for clients. He focuses on rates, MBS, credit, the Fed/global central bank policy, U.S. dollar funding dynamics and all things macro-related.
George spent nearly a decade at Nomura Securities, first as the chief U.S. Rates Strategist and later as the Head of U.S. Fixed Income Strategy. Over his tenure at Nomura, he oversaw teams of analysts covering U.S. rates, U.S. credit and emerging market rates.
Prior to that, George was the Head of Fixed Income Strategy at Cantor Fitzgerald and a senior research analyst at both Morgan Stanley and Bank of America. He started his career in the Fixed Income markets on the buy side at the formerly known Merrill Lynch Asset Management division in institutional separate accounts, analyzing and co-managing portfolios of Treasuries, repo, short-term credit and MBS as an assistant portfolio management analyst.
Earlier in his career, George was voted one of the top 20 rising stars in Fixed Income by the publication "Institutional Investor" in 2007. And throughout his career he has been an active guest on Bloomberg TV and CNBC as well as quoted many times over in the financial press.
Professionally he has interacted with many debt issuers and has established a wide network of institutional investors from FX reserve managers, Bank Treasurers, real money and macro hedge funds.
George received his joint degree in Finance/Economics and Political Science from Rutgers University's School of Management.