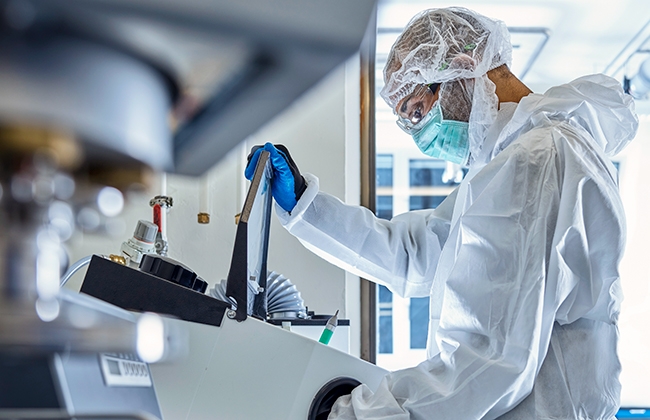 U.S. Healthcare Industry Faces Crosscurrents from COVID-19
December 1, 2020 | By Andreas Dirnagl, Global Head of Healthcare Research
The outbreak of COVID-19 is both benefiting and challenging the global healthcare industry in ways that we believe will continue to evolve in the coming quarters.
The industry's position as a defensive sector
From a macroeconomic perspective, healthcare is considered a defensive sector because it is comparatively non-cyclical: It offers products and services that consumers need and continue to consume in most economic environments.
Amid the public health crisis triggered by COVID-19, there's naturally intense interest in healthcare as a source of treatment and of potential cure for the disease. Healthcare as a whole is also viewed as a bastion of financial resilience relative to other industries that are suffering because of lockdowns and social distancing—and that will likely continue to suffer in a recessionary environment. These industries include tourism and hospitality, airlines, capital goods, and other industries fueled by discretionary spending and susceptible to economic downturns.
However, when examined more granularly, the healthcare industry is not homogenous. In fact, it is very diverse and will likely be affected in uneven ways by the pandemic.
The financial effect of the pandemic by sub-sector
Let's examine the anticipated financial consequences of the pandemic for the healthcare industry's main sub-sectors:
The effect on the pharmaceutical supply chain
We expect the pandemic to have a lasting effect on the supply chain of pharmaceutical companies.
After all, COVID-19 has exposed how dependent the United States is on countries like China for the material sourcing and manufacturing of active pharmaceutical ingredients, or APIs, which are the building blocks of drugs. In our view, this pandemic should prompt a reassessment of supply-chain vulnerabilities and lead companies to establish workarounds to reduce their reliance on offshore outsourcing and minimize risks.
 
Pharmaceutical companies: In the short run, social distancing has accelerated the business of pharmaceutical companies because of "shelter-in-place" orders, which resulted in the extension of medication prescriptions—often from 30 to 90 days—to last for prolonged stays at home. Pharma companies with consumer-products businesses have particularly benefited from this trend as sales of over-the-counter drugs (such as pain-relief medication) and a range of household products (such as cleaning agents) have gone up.

Yet the effect of accelerated purchases during the first half of the year will be offset by a deceleration during the second half or into 2021 as shelter-in-place orders are lifted, thus reducing or neutralizing the net positive effect on companies' annual results for 2020. The exception would be for manufacturers of products and supplies in exceedingly high demand to treat respiratory illnesses—such as ventilators—personal protective equipment as well as any company that could manage to produce a successful vaccination against COVID-19. Such companies may well see a net positive effect on their annual results.
Medtech: We define medtech companies as producers of technologies, supplies and capital equipment used in a care setting, such as medical and surgical devices and instruments, diagnostic tests, implant materials, biomaterials and disposables. The impact of the pandemic on a medtech company would depend on the extent to which its business is dependent on elective procedures (i.e., any surgery that must be done, but that need not be performed immediately).

What we've heard from some medtech companies is that things were going well until the coronavirus disease reached its apex in the second week of March—and then the bottom fell out. These are companies that rely on orthopedic, dental, low-acuity cardiac and other procedures, which had to be postponed either because of social-distancing measures, or because hospitals needed to free up resources and preserve capacity for an influx of COVID-19 patients. The real question was: How quickly will this loss in volume be recovered once social distancing restrictions begin to be lifted? The answer is – much quicker than we or the industry had anticipated.  Going into 4Q20 we have seen a number of companies across the higher acuity elective procedures (neuro, cardio and mobility-impacted orthopedic) report a return of demand ranging from 75%+ to full pre-pandemic levels.
Healthcare services: We define the services sector as consisting of medical professionals, organizations such as hospitals, and workers who provide medical care to those in need.

The healthcare services sector makes one of the largest portions of its profits from high-priced, non-emergency procedures and surgical stays. As a result of procedure delays and cancellations, hospitals are hemorrhaging revenues. Moreover, hospitals are spending large sums of money treating patients, and protecting their staff from the pandemic, and making other necessary preparations—an additional financial burden.

Even with the rebound we saw through mid-4Q it may take some time—perhaps a few years—until the services sector recovers fully financially. What's clear is that governments around the world are setting up financial lifelines for their hospital providers. And if there's one thing a pandemic teaches a government, it's how to value its healthcare infrastructure.
The effect on M&A
We anticipate most merger and acquisition (M&A) activity to be put on hold until companies are able to reassess their financial prospects once the pandemic subsides.
At the onset of COVID-19, healthcare companies emphasized the preservation of liquidity—and we believe that emphasis will continue so long as uncertainty remains about the economy and consumer behavior. Once the immediate impact of the pandemic subsided, we saw strategic, opportunistic and "tuck-in" acquisitions to be the core of M&A activity in 2020. (Also known as a "bolt-on" acquisition, tuck-in is a type of acquisition in which the acquiring company merges the acquired company into a division of the acquiring entity.)
We foresee healthcare companies taking a hard look at their portfolios and seeking to trim or add to them.
The effect on pharmaceutical public relations
In recent years leading up to the pandemic, pharmaceutical companies have had to contend with a negative reputation. The perceived steady increase in drug prices and the images of CEOs being summoned to testify in front of congressional committees about it fueled a negative perception of those companies as greedy at the expense of public health.
However, COVID-19 has allowed for image rehabilitation. The public now looks to pharma as the solution. This favorable change in attitude was only amplified when manufacturers decided to donate hydroxychloroquine as an experimental cure for the disease, forfeit some profits, and demonstrate that they were being socially responsible.
In addition, pharma companies without consumer-product divisions or blockbuster drugs had been relatively obscure until the pandemic brought them to light and enhanced their public relations. For example, Gilead Sciences was likely not a household name until everyone started talking about its drug Remdesivir as a possible treatment for COVID-19.
The prospect of a vaccine
As the search for a vaccine to inoculate the world's population continues, it's worth emphasizing the risk/reward endeavor it entails for pharmaceutical companies.
Vaccines are a business of dichotomous outcomes in that the result is binary: Either you manage to synthesize an effective, commercializable drug following a tremendous financial undertaking of research and development—or you don't. This implies a certain type of risk that pharma companies and their investors must assume and be comfortable with in the process.
A successful vaccine would face monumental global demand in the form of hundreds of millions—and perhaps billions—of doses. Given its low odds of success, the pursuit of a COVID-19 vaccine can't be a foundational, long-term business strategy of a company. But if the opportunity presents itself for an established company to try, the financial benefit could be enormous.
Certainly, the outcomes that we have seen so far from companies like Pfizer / BioNTech, Moderna and GSK / Oxford University – with efficacy at 90%+ the outlook looks better than expected.  Now, we foresee the global healthcare sector moving on to the challenge of distribution and vaccination of the global population.  We foresee "peak vaccination" occurring in mid-to-late 2021 for the industrialized economies and late 2021 to early 2022 for the emerging markets.
Conclusion
We expect the current pandemic to have an uneven impact on the diverse parts of the U.S. healthcare industry—namely the pharmaceutical, medtech and healthcare-services sectors.
Largescale M&A will likely be deferred until the pandemic subsides with mass global vaccinations; in the intervening period we are seeing healthcare companies focus on "bolt-on" acquisitions.
COVID-19 has enabled pharmaceutical companies to rehabilitate their image, and the pursuit of a vaccine—despite not being a viable foundational strategy for a company—could be a potentially lucrative endeavor for already-established businesses.
Andreas Dirnagl
Global Head of MUFG Healthcare Research — Strategic Research
Mr. Dirnagl heads MUFG's Strategic Research Division in New York, which provides coverage bankers, product groups and credit staff with in-depth industry and company information and analysis. In particular, he leads the global healthcare research practice—his individual specialty—within that division.
---
SUMMARY
The U.S. healthcare sector is considered defensive (non-cyclical) and has come back into favor among investors.
Yet the sector comprises heterogeneous parts, and we expect the pandemic's effect to vary by segment.
Our outlook distinguishes between pharmaceutical companies, medtech, and healthcare services.