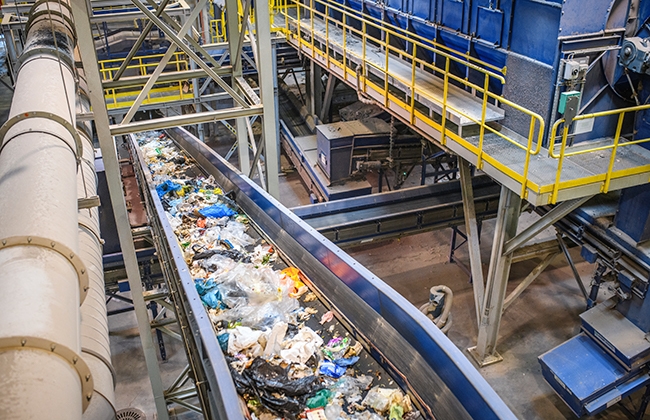 Waste management industry proves resilient during COVID-19 pandemic
The industry is consolidating, leveraging new technologies, and playing a leadership role in environmental stewardship
Despite a reduction in waste volumes during the COVID-19 pandemic, the waste management industry has proven strong, with increasingly agile companies taking advantage of technology, environmental, and private equity opportunities, according to the Environmental Services banking team at Mitsubishi UFJ Financial Group (MUFG). The team that includes Managing Director Robert Jones, Director Maria Maia, and Vice President Fabio Lauro, issued its perspectives as part of the dialogue surrounding Climate Week NYC, an annual global summit on environmental and policy issues.
Waste reduction amid the pandemic
In the latter part of the first quarter and in the second quarter of 2020, most waste services companies that collect, process, dispose of, and recycle waste experienced a reduction in waste volumes across sectors because of the COVID-19 pandemic. We see commercial volumes declined the most—roughly by 15 to 25 percent for some companies—because of widespread closures of offices, shopping malls, restaurants, and other business establishments. Waste volumes from construction and demolition—which tend to be susceptible to economic slowdowns affecting housing and construction at large—also declined, albeit to a lesser extent, as many construction projects continued throughout the government-imposed lockdown. On the other hand, residential waste volumes increased because of the larger population of people working from home. However, because the pricing of residential waste collections is generally based on volume—not weight—few waste services companies were able to pass on higher residential pricing in the second quarter. Weight-based fees, in contrast, are paid by commercial customers and are more easily adjusted to cover increases in processing and disposal costs.
The waste management industry is resilient
Notwithstanding the overall decline in waste volumes, the financial resilience of the waste management industry— particularly companies within the traditional solid-waste category—is able to generate recurring revenues anchored by long-term municipal and commercial contracts. The industry has a number of secular advantages, including high barriers to entry created by regulatory requirements, the ability to pass on price adjustments, the flexibility to modulate capital expenditures to meet demand, and the efficiencies of vertical integration.
"Despite the pandemic, the industry was able to maintain consistently strong cash flows, service its debt, and provide returns to shareholders."
—Maria Maia, Director, MUFG Environmental Services
Environmental initiatives and technology
The industry is taking advantage of environmental and technology opportunities to streamline operations, increase sustainability, and enhance customer service.
Environmental stewardship:  Companies are advancing sustainability through internal measures for a cleaner environment.
Landfill gas-to-energy projects, in which waste services companies capture methane in landfills to reduce greenhouse gas emissions and then use it as a renewable energy source (often to fuel the very vehicles that bring waste to the landfills for disposal in the first place)
Investments in next-generation recycling facilities increase the recovery rates of disposed materials, while improving the quality of the material recovered, promoting safety, and driving efficiency
Partnering with customers to meet sustainability goals
Technology: Companies are applying technologies to enhance operational efficiencies, reduce costs, and strengthen competitiveness.
New technologies improve route planning for waste collection vehicles, modernize the vehicles themselves, and enable sophisticated maintenance programs and data tracking of key operating metrics
There are also advancements in providing online and mobile customer service that enable timely updates and an overall better customer experience
Consolidation drivers
The U.S. waste management industry is highly fragmented, making it ripe for continued consolidation and attracting investors, including private equity sponsors.
A large portion of the industry's revenue today is concentrated among the four largest public waste services companies, while the remainder of the industry is fragmented among thousands of companies that are identified as solid-waste collection and disposal businesses. Consolidation activity—especially among the large players—has been accelerating in deal volume and transaction amount over the past three to four years.
The economies of scale of merger-and-acquisition (M&A) transactions in the waste management industry can result in enhanced labor productivity, asset utilization, and financial resourcefulness to acquire better and more modern equipment. Four factors are motivating small waste services companies to sell to larger businesses, thus fueling industry consolidation:
Lack of succession: Many owners of family-run businesses are nearing retirement age and do not have succession plans in place. Meanwhile, newer generations of likely successors, such as immediate family members, are opting not to carry on the family businesses.
Increase in equipment and technology investments: New regulations and requirements from municipalities are mandating the use of waste transfer and disposal vehicles with lower carbon emissions and high-tech recycling equipment in order to meet municipal and state sustainability goals. These required investments are pressuring smaller businesses with limited financial resources.
Rising landfill and disposal costs: Shrinking landfill capacity in many U.S. states, especially in the Northeast, is causing disposal costs to rise—a trend that will continue as additional landfills close. Waste services companies that do not own landfills may be more exposed to inflationary pressures on the disposal front than other companies that own landfill assets.
The advantage of lower current taxation: Some company owners have decided to accelerate efforts to sell their businesses to take advantage of current favorable tax laws.
Private equity opportunities
The waste management industry has been an attractive area for private equity investments for many years, and waste businesses can support greater levels of leverage because they are less vulnerable to recessions.
Private equity firms create meaningful value in various ways via M&A, including opportunities to scale up a regional platform through bolt-on acquisitions, or, alternatively, create a platform by combining smaller local operators. Either way, they are finding opportunities to harness economies of scale and build businesses with regional reach to create value.
Valuations for acquired companies with regional scale, strong free cash flows, healthy EBITDA margins, and vertical integration models (i.e., the possession of both collection and disposal assets) have tended to trade at a premium, with EBITDA multiples in the high single- to low double-digit range. Bolt-on acquisitions may carry lower EBITDA multiples in the mid-single digits, but can be highly accretive in adding value and efficiencies. The exit market for those looking to sell their waste businesses has also been supported by a range of interested acquirers from a strategic and financial perspective
MUFG'S Environmental Services
Established more than two decades ago, the Environmental Services banking team at MUFG in the Americas provides a full suite of banking products and services—and access to a broad range of financing and capital markets expertise—for companies whose mission is the responsible collection, processing, recycling and disposal of waste. These include companies that deal with traditional solid waste, as well as specialty niches such as medical waste, liquid and hazardous materials, and related industrial services.