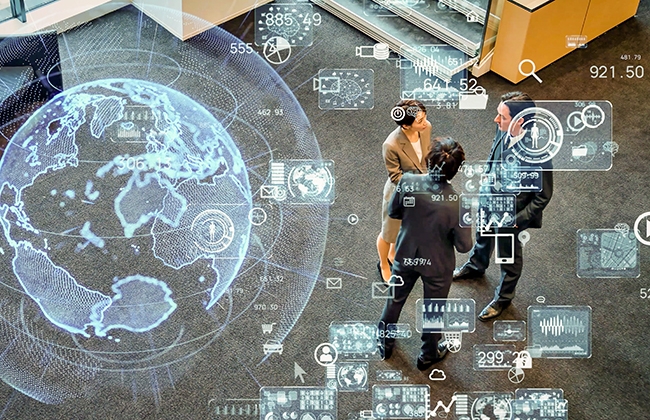 Avoiding the Seven Traps That Trip Up Digital Transformation
R. "Ray" Wang has done it again. In his latest book, Everybody Wants to Rule the World, he lays today's business challenges on the table, observing that "digital Darwinism is unkind to those who wait." He goes on to warn that "every organization is facing a business extinction event" — and those who resist change are the most vulnerable.
To paraphrase the Tears for Fears song of the same name: today's economy won't stand this indecision, married with a lack of vision.
All the most expensive and sophisticated digital technology in the world won't help an uninspired or backward-facing company get ahead in the world ahead. "Those companies who embraced digital transformation early and failed have realized that scaling and automating a crappy business model that's inappropriate for the market only makes things exponentially worse," Wang writes. "As they contemplate taking on another massive change, they are afraid to repeat the same mistakes. And those companies who succeeded in their digital transformation efforts often don't understand where and how to apply the lessons they learned to this next, daunting phase. Faced with this reality and armed with limited data, boards often take too much time to ponder how to proceed next—and then fail to act fast enough."
The great shift to digital has been developing for decades, but Wang says the tipping point took place somewhere around the year 2018. At that point, "the playing field had changed," and "for many industries, the field had massively changed," he says. "Direct head on competition no longer seemed to be the game. A rash of mergers and acquisitions took a vertically integrated stance, but more aligned with value chains than industries. More nontraditional competitors had entered the market from thin air. These new entrants were well-funded, could take massive losses for market share. Moreover, these organizations had envisioned a new market that had not existed before. They were entering the market from a position that at first seemed untenable but then became massively viral, overnight."
The Covid crisis of 2020 only accelerated this shift even deeper into the digital economy.
So where do companies get wrong about digital transformation? Wang describes at least seven traps that throws digital aspirants off their game:
1. Illogical deviation from brand mission causes confusion. "Companies often extend their brand mission into other product categories or even markets," Wang points out.
2. Poor leadership leads to inability to attract top talent. "Top talent attracts top talent. But it all starts at the top."
3. Laggard market perception cascades failure and customer disillusionment. "Faced with a declining brand, some companies try to revive it by taking the shortcut of branding without substance—instead of meaningfully redefining its mission and purpose with new business models. As soon as a business is seen as devoid of innovation, peddling a commoditized, nondifferentiated product, all stakeholders—employees, customers, partners, suppliers and investors—lower their expectations, leading to a focus on short-term gain, declining employee morale, lack of interest by investors, and lower quality from suppliers."
4. Short-term profit mentality leads to a lackluster leadership team. A "thread of hostile takeovers and pressure from so called 'growth-based' private equity firms focused on squeezing greater amounts of EBITDA from companies have led to a generation of 'Yes-Person' CEOs who create anorexic environments for innovation."
5. Dearth of innovation leads to nondifferentiated offerings and fear of success. "Nothing reeks of failure more than the copycat product that arrives a cycle late into the marketplace. Yes, playing it safe and riding on the remaining vestiges of brand cachet can help a short-term CEO and board hit their targets. But this leaves the company without any differentiation from its competitors, leading to long-term consequences."
6. Illusory superiority results in failure to partner while on top of the market. "Delusions of grandeur and ego often beset successful market leaders. The result? Poor treatment of partners and suppliers, ignoring customer requests, and disregard for new emerging opportunities."
7. Short-term thinking leads to poor deployment of capital for innovation. "Decades of cost cutting, mergers and acquisitions, and activist shareholder fights have crushed the growth and innovation culture at many organizations. This strangulation of capital funding for innovation has decimated legacy enterprises, leaving them vulnerable to attacks by innovative competitors and new entrants in the market."
It's time to be bold — that's the secret of digital leaders. "The organization's purpose should expand beyond the company's original mission to address the full value chain," Wang points out. "The organization should adopt a benevolent dictatorship governance structure. The company's offerings should build-in AI-driven digital feedback loops. The organization should apply data driven digital networks to win markets. And leaders should focus on new forms of monetary and non-monetary value .exchange."
It's more than a digital transformation, Wang points out. "It's more than a turnaround. It's a complete rethink of your business."
This article was written by Joe McKendrick from Forbes and was legally licensed through the Industry Dive publisher network. Please direct all licensing questions to legal@industrydive.com.
MUFG Americas
Corporate Headquarters
1251 Avenue of the Americas
New York, NY, 10020-1104, United States