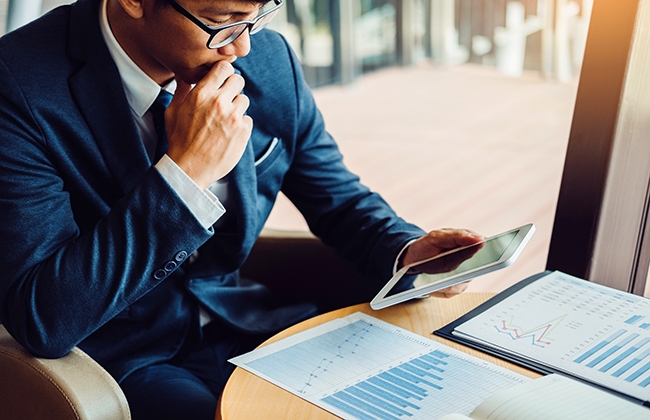 The Case for Digital Acceleration
The case for digital acceleration: Reimagining digital investment for maximum business impact
In the pre-pandemic world, enterprises were under pressure to jump on the "digital bandwagon" The pandemic and the subsequent lockdown measures have only accelerated the collective push towards digitization. The transformation has graduated from good-to-have to must-have, and business survival is now among one of the top reasons to invest in emerging technologies.
COVID-19 has changed priorities and accelerated the adoption of digital technologies. According to the Digital Acceleration for Business Resilience report that surveyed 400+ business executives across the globe, the number of respondents who said that digital transformation is now a board-level priority within their organizations, compared to how important it was at the start of 2020, has increased by 13 percent. `
Reprioritizing digital investment – A critical ask
Going forward, emerging technologies and new working models will play a key role as businesses transition to more inclusive digital economies. These technologies are poised to play a critical role in ensuring stakeholder and customer trust, keeping the remote workforce engaged and connected, ensuring resilience of operations, and developing a strong foundation for future service and product innovation. The range of technology solutions implemented by companies will vary based on distinct scenarios and requirements.
Further, there will be emphasis on the challenges associated with the transition. Companies need to be able to move to quickly and reliably in view of the current business landscape. With speed and flexibility now indispensable to digital acceleration, identifying the potential roadblocks should be a key objective of every digital investment initiative.
According to the HCL Digital Acceleration report, nearly 89% of respondents stated that their organization faces at least one major challenge among their digital transformation initiatives. Data security and governance, legacy technology, lack of skills, and skill managing change are some of the most prominent barriers highlighted. It is safe to say that the organizations that will fare best during this crisis are those that revisit their digital investment planning and budgeting from scratch.
The entire exercise necessitates active involvement from enterprise leadership, and forward-looking enterprises are taking steps to ensure that digital initiatives get due attention. One particular sector that has been steadily ramping up investments to be more digitally mature is manufacturing. When the pandemic hit, organizations across the manufacturing sector were compelled to address critical supply and demand challenges with wartime urgency. According to various industry reports and surveys, manufacturers are looking to invest in specific technologies that can help them accurately predict decrease or surge in demand so that production can be ramped up or shifted to an alternative destination in response to disruptions.
Digital transformation doesn't necessarily have to be expensive
One of the biggest fears associated with digital transformation initiatives involves significant upfront cost. That fear is magnified in the current business environment, where organizations are unwilling to make major investment decisions. However, it is worth noting that the majority of digital transformation projects are often initiated with limited resources as low-cost pilots and eventually scaled up based on the results they deliver.
When undertaken with proper planning, digital transformation can be largely self-sustaining, allowing every incremental improvement within processes or operations to support the next phase of the transformation by bringing down costs or increasing efficiency and productivity. Forward-looking enterprises are coming to terms with the possibilities.
The Digital Acceleration survey reveals that 88% of companies plan to restart their digital transformation journey in the new normal, and a majority plan to invest aggressively in at least one (with an average of four) digital technology in the near future. And more than half of the companies surveyed plan to prioritize investing in cybersecurity and cloud computing. Strategic investments in such technologies can help organizations realign targeted solutions to the unique challenges posed by the pandemic.
A healthcare startup in India, for example, is working on an AI-based non-invasive heartbeat and respiration monitor that allows contactless health monitoring for patients. The solution leverages contactless sensors to capture body vitals in real-time without physical wires touching the patient's body. Such innovation can be crucial in healthcare – an industry that's already struggling with an acute shortage of frontline workers.
Digitization can help foster a faster recovery
Past recessions have shown that controlling costs by enhancing operational efficiency can actually be more effective than conventional cost-cutting measures in sustaining a business through a crisis. A survey conducted by the Harvard Business Review analyzed the business strategies that helped corporates recover from three global recessions (the 1980 crisis, the 1990 slowdown and the 2000 dot-com bubble). The survey, which involved 4,700 public companies, analyzed the data from three distinct phases: three years before the recession, three years after, and the recession years.
The results highlight how focusing on operational efficiency can help a company bounce back from a crisis. Companies that depended on workforce attrition to manage costs had only an 11% chance of delivering breakaway performance post-recession. Those focusing on operational efficiencies over layoffs, on the other hand, were more likely to emerge as the winners.
It's clear that process automation can offer an important way ahead for companies that seek to score big on efficiency. Automation projects can help companies realize tangible ROI benefits, offsetting any upfront investments. The working principles of automation are simple: it allows the same work to be performed much faster with few to no mistakes, and provides companies with an opportunity to redeploy human capital resources for high-value tasks.
The business disruption caused by the pandemic might be a kind of blessing in disguise for companies that are treating it as a stress test for their infrastructure and operations. The pandemic has helped uncover loopholes across existing operations and value chains. For smart enterprises, these insights can prove critical in helping guide long-term digital investment decisions and involvement from decision-makers in their digital acceleration journeys.
This article was from Dataquest and was legally licensed through the Industry Dive publisher network. Please direct all licensing questions to legal@industrydive.com.
MUFG Americas
Corporate Headquarters
1251 Avenue of the Americas
New York, NY, 10020-1104, United States